I admit it — lately, I've been on kind of a 90s kick. The music, the clothes, the clouds of CK One. I'm having a mid-life!
There was something really sweet and simple about those days, something to look back on and wonder why you didn't appreciate it when you had it. I suppose everyone feels that way about their youth.
Of course no 90s flashback would be complete without Gwen Stefani, the bindi-wearing, platinum blond, ever-youthful frontwoman of ska/alt-rock band No Doubt who's album Tragic Kingdom still gets constant radio airplay almost three decades after it's release.
Gwen's style may, to the casual observer, seem all over the place. She's sported Indian-style sarong and bindi, mega wide-leg pants and cropped tops which slid into a more Jamaican color influence in the early 2000s. She's done scantily clad Gothic Lolita to pay homage to her much-loved Japan. Road Warrior and even cyberpunk wear have popped up.
But while Gwen definitely hops around the spectrum, she tends to go back to the Golden Age over and over again. We see this influence lightly pepper her old bombshell Gen X looks that had a decidedly Rockabilly edge to them. She made the red lip glamorous again, simple eyes and a well-defined brow that all stood out against white locks and skin.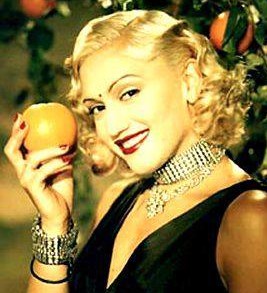 She wore an adorable polka-dot mini dress with a very 40s shape (even with the 90s twists) in the now-iconic music video for No Doubt's signature tune, "Don't Speak" way back in 1996 that was written by Gwen and Eric Stefani and famously – publicly – deals with Gwen's breakup from No Doubt bassist Tony Kanal.
Later on in the same music video Gwen's vintage style resurfaces during a photo shoot that the rest of her band is muscled out of (They looked mad. They must have all really wanted that orange…) and is wearing her famed bindi, red lip mini-smear and finger waves – not something you necessarily saw in the media at the time.
Her Rockabilly and Golden Age love would come out several times in her style, even after her clothing had changed she managed to keep her pompadours, curls, rolls, waves and those beautiful platinum tresses.
Her Rockabilly and Golden Age love would come out several times in her style, even after her clothing had changed she managed to keep her pompadours, curls, rolls, waves and those beautiful platinum tresses.
One of my favorite examples of this is in the video for Cool, also about Tony Kanal and Gwen's relationship – though, this time it's a nostalgic look back rather than entirely painful or intense as Don't Speak.
In the video, Gwen is visited by an old flame and his new love, and during their visit, she reflects on her very late 40s/early 50s life with him back in those "dreaming days". Her clothes are summery and beautiful in the flashbacks, very vintage looking. In the 'present' day, she dons a fabulous Rockabilly look. She even channels Marilyn Monroe during some pretty intense, very sexy eye contact with the camera that involves rolling around on her bed in tap pants – no, I'm not making that up.
If nothing else, the lighting, color filters and scenery in the flashback scenes should be Zen for anyone who's as into beautiful old postcards as I am.
The song is gorgeous, the girl is gorgeous, the clothes are gorgeous. I can't explain it to you any better than this:
Then we have the very 1930s-inspired music video for No Doubt's 2003 cover of Talk Talk's 1984, 'It's My Life' where a very deadly Gwen is sporting slinky 30s high fashion and fingerwaves.
Gwen's major film debut was also very vintage-y. She played Jean Harlow in the 2004 period Howard Hughes film The Aviator.
This film is one of my favorite period films from Hollywood's Golden Age due not only to amazing sets and fantastic cast (Leonardo DiCaprio was great in the film, but I think everyone was outshone by Cate Blanchett playing Katharine Hepburn and just nailing the voice completely), but it's also a favorite of mine for the outstandingly beautiful costume design and the care they took to try and make sure the clothing, hair and makeup were correct for the time and the person wearing it.
She's barely in the trailer for The Aviator at all, even though she has a decent-sized role in the film (chalk that up to Hollywood's ridiculous trailer cutting but the film itself is fabulous ). So, since it's hard to catch her in the trailer I thought it might be fun to post this instead:
What's your favorite Gwen look? I have to admit to personally loving the bathing suit from Cool – I am a vintage swimwear fiend!
XOXO
1930s
1990s
Gwen Stefani
Vintage Style